CATHERINE BOHRMAN - SCULPTOR
BIOGRAPHY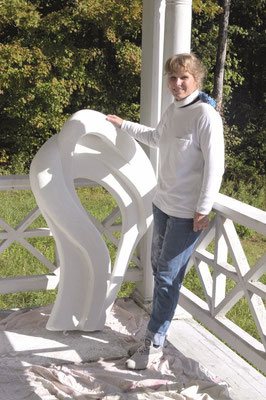 "Catherine Bohrman's compact abstractions in alabaster, bronze and marble possess soft edges that belie the magnitude of their density," says Allen Hoffman, Legislative Liaison and Senior Program Associate for the Connecticut Commission on the Arts.
A resident of Connecticut & Washington, DC for over twenty years Catherine now lives in Palo Alto, CA and is active in art markets around the country. She also has a summer studio built in 1900 in Stockbridge, MA (which has been used by 3 generations of artists in her family). Her hands always busy from an early age she grew up engaged in creating, using any material she could find and helping her dad in his studio. She was educated at Stanford University in California majoring in Mechanical Engineering and Art. She initially worked in the foreign manufacturing/design division of Mattel Toys in California until she moved to Greenwich, Connecticut and it was at that time that she was introduced to stone sculpting. She then switched her medium to cast bronze using the lost wax process and sand casting methods. Focused on both small and large commissioned pieces, she creates maquettes (plaster models) in her studio and has them scanned, if needed, to enable more flexibility in customized sizes to fit commissioned locations.
She has won top awards in many juried shows and her work is in numerous private collections nationwide. Her public art commissions include a piece in Constitution Hall, Washington D.C., the Joan Scarangello Foundation To Conquer Lung Cancer Annual Award Trophy and the signature sculpture on the set of the former CNN program NewsNight with Aaron Brown.
Her work has been in galleries throughout the country. In New York City she has shown in SoHo and at Lincoln Center. Recently she has virtually shown at the Catharine Lorillard Wolf Art Club, the Art Essex Gallery Virtual Invitational, the Manhattan Arts International Virtual "Her Story" 2020-2021 and currently showing at the Commonwealth Gallery in San Francisco. She currently is represented by the Oli Gallery in Guerneville, CA, Riverfront Gallery in Petaluma, CA and the Izen Miller Gallery in Palm Desert, CA. Slides of her sculpture are in the Archives of the National Museum of Women in the Arts, Washington, D.C. In 2010 an exhibit in Dubai brought her to the international art scene. Catherine has lectured on stone sculpting at schools and professional organizations, teaching the history and techniques of sculpting. She is an Associate of The National Sculpture Society and in May, 2019 she represented the Society at the Plein Air Convention in San Francisco. Also winter 2020 she exhibited in 'Modern Works' of The National Sculpture Society at Sparks Gallery in San Diego, CA. She is in Who's Who of American Women, and has been a member of the Washington Sculptors Group, the Connecticut Women Artists, Inc. the Uncommon Chiselers (a group of noted women sculptors) and four Connecticut art societies. She is a member of the Pacific Rim Sculptors where she is currently exhibiting in their juried exhibit. She is a member of the Sebastopol Center for the Arts in CA where she was a participating artist in its annual "Art at the Source 2022" event. She is a life-member of both the National League of American Pen Women where she has served on the National and both Connecticut and California local boards, and the Greenwich Art Society where she served as a vice-president on its board for sixteen years. Catherine has also volunteered as an information specialist for five years at the Smithsonian Institutions' Hirshhorn Museum of Contemporary Art, American Art And Portrait Gallery and Renwick Gallery in Washington, DC.
Catherine L. Bohrman is the daughter of the late stained glass artist, Frederick L. Leuchs of Stockbridge, Massachusetts, whose work is found at the Masonic Memorial and the Library of Congress in Washington, DC, The National Shrine of the Divine Mercy in Stockbridge, MA, and St. John the Divine, St. Bartholomew's Church, Riverside Church, Picasso House and West Point in New York. She is a great niece of well-known sculptor Augustus Lukeman, a colleague of Daniel Chester French, and perhaps best known for designing (in collaboration with French) the Gold Medal for the Pulitzer Prize. Lukeman also created two statues in the US Capitol's Statuary Hall, as well as major monuments to US Presidents and historic figures throughout the United States. She is married and has two children.